mubarakan da sijjun
Its been some time since I last posted on this blog and it wasn't due to laziness for a change. I have been very busy lately with some rather sudden and hence unexpected changes in my project that have necessitated my working my butt off just to meet the deadlines that are getting more ridiculous by the day.

Apart from the pressure at work, life has been relatively smoot with some rather hartwarming news from back home which has been a real relief. Heartiest congratulations to Mitali who got married after a hunt that spanned four years and three continents.

Also getting onto the bandwagon were college friend Alok and secret-crush Monika who got engaged recently. Manu, I am heartbroken ;-)

And since this thing seems to be in season, the notoriously naughty and free-wheeling Deepak Nautiyal, childhood buddy of mine and the handsome bloke in the infamous Adi,Deepu,Mukki troika, is also tying the knot in October.

Here is wishing an exciting and lovely future ahead to all of them.

Ok, now that the formalities are over, lets get down to the real business. The reason why I write this blog and all my readers descend on it like vultures to read it. Yes, even you guessed it right, its me.

So ladies and gentlemen and others, presenting my latest culinary masterpiece.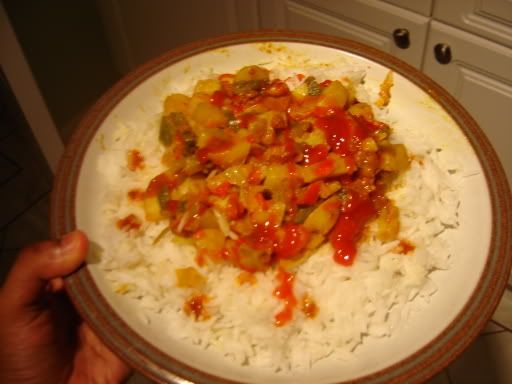 And no, the recipe shall not be shared.