Where are the people?
It seems like the people of England have all gone on vacation to someplace outside the country. There is just no one anywhere ! Everywhere I look, there are buildings, there are trees, there are immaculate lawns, there is lots of greenery and there is a bewildering array of cars whistling by at impossible speeds, considering the narrow lanes and intricate traffic patterns, but there are no people, there is no noise. The only sound is a constant hum of cars passing by on the Motorways but that is it, nothing more. Absolutely nothing more.

Just to quote an example, in the 45 minute drive to my hotel after landing at Heathrow, I must have seen not more than a hundred people on the roadside. In comparison, if I had travelled a similar distance in Delhi or Mumbai, I would have glimpsed at least five thousand people, shouting, honking their horns, talking and making all kinds of wonderful noises, a sea of humanity, live and what's more, lively. Oh, what a joy !

Nothing of that here. An occasional passerby, a plastic bag in hand, huddled in a jacket, straggling along, eyes firmly on the ground. Not a heartening sight at all, I must say. Too grumpy for my taste. How these poor buggers manage to come up with their famous Brit brand of humour remains beyond me.

That brings me to the weather. After the scorching heat of Delhi, where 45 degrees was something that everyone was beginning to take for granted, the weather here is so different that I could have died from the shock itself. Temperatures refuse to go above 17 degrees and 10 degrees is the norm. Add a very blistering cold wind and a steady drizzle to the mix, and you have the perfect recipe for a totally dreary atmosphere. Have a look, isn't it dreary ?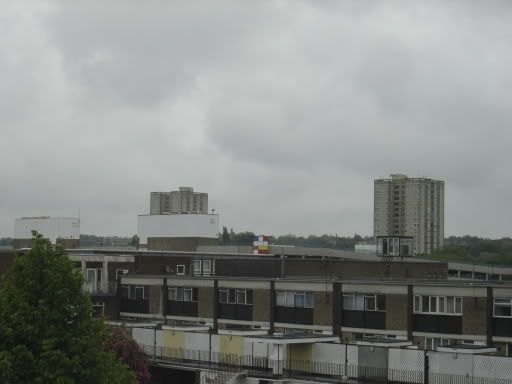 Here is the view of the back of my hotel from my room. A bit unsettling, if I may say so.

Where are the people ?