the retail difference
This is ASDA, a typical retail superstore in the UK. Sorry for the pic, will try and get a better one.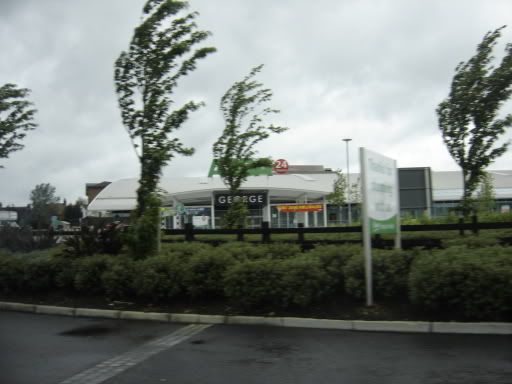 Compare this to the multitude of people thronging Big Bazaars in Lower Parel, Mumbai or Hosur Road, Bangalore or East Delhi Mall, Ghaziabad and the contrast couldn't be starker. Though broadly the concept of a cut rate retail megastore is similar in theory, there are a lot of differences that remain between stores here in the UK like ASDA and back home in India like Big Bazaar or Giant.

A typical ASDA patron belongs to the lower strata on the socio-economic scales. The slightly more affluent ones are more likely to shop at Sainsburys while the rich are more likely to found at Marks and Spencers and even Harrods. While customers of Big Bazaar are most likely to belong to the upper middle class. Credit Card usage at Hypermarts in India is remarkably high as compared to the rest of India's shopping habits, a clear indicator of the difference.

Another significant difference lies in the entire customer experience. Megamarts in India, particularly Big Bazaars, are disgusting when it comes to the shopping experience. Too crowded for comfort, no one with enough knowledge about products or special offers, and pathetic product placement. Just to quote an example, you are very likely to find the more commonly sold brands of toiletries like bathing soaps and toothpastes at the lowest shelf in Big Bazaars which means a lot of back breaking bending down to reach them.

And to make matters worse, there is no process of automatic triggering of a refill process when a shelf runs out of a product. There is a manual inspection just once the entire day which means that on weekends fast moving goods are all cleaned out within hours and nothing is done about it. Some stores seem to have found a way around this problem by keeping the manufacturers' wholesale packaging carton next to the self.

What this results in is absolutely shameful,in my opinion. Customers are forced to actually sit down on the floor and rip the cartons open to take whatever quantities they want. What is more, the staff is not even apologetic about it. And to add insult to injury, the check out lanes are so long, it has taken me 75 minutes once to buy 2 trousers. They are supposed to have an express lane for less than 10 items, but that doesn't bother either the staff manning the till or the customers.

In short, a pretty harrowing experience to save at most 5% of your total purchase value. The fundamental reason for this is that we Indians have not yet learnt to put a value to our time and comfort. The fact that a saving of hundred rupees is not desirable if it comes at the cost of waiting for an hour in a queue is something that we have not yet understood properly.
And coming to ASDA, well, it is my holy grail as far as food is concerned. It has about a dozen different types of ready-to-microwave rice dishes and about twice as many vegetarian dishes which are the sole reason why I am alive here till now.

The only problem is, the food here is pretty bland and I did not find it palatable until I realised that all I had to do was sprinkle chilli powder or crushed pepper or both liberally and it would be just fine.

Bas ek wo din tha aur ek aaj ka din hai, mujhe yahan kabhi khane mein koi pareshani nahi hui. Bas, ek microwave hona zaroori hai.