the booty is there for the taking
The goodies just keep coming. And the first prize package of Backwaters 2006 is going to be found by one lucky team later tonight. Yes, its a treasure indeed, a

Club Mahindra

holiday package for 2 people for 3 days and 2 nights at the picturesque

Munnar Resort

.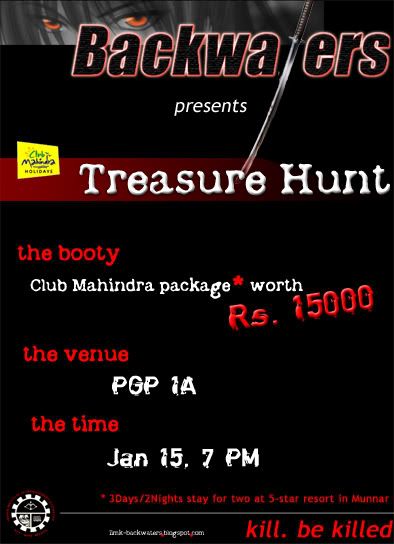 In other news, the first banner for Backwaters 2006 was finally put up today after 2.5 hours of grunting, head scratching and immense amount of thoughts, logical and otherwise. We thank

Sam, Meren, Amos, Shounak, Pooja, Ridhi

and

Prashant

for being there and helping us make it happen.
These days all I seem to be doing is checking and replying to email and working on Photoshop :-) Time has suddenly become a high premium commodity. But on the brighter side of things, the campus is definitely getting into the Backwaters mood and it feels nice to see the enthusiasm among the junta.
[cross posted on the Backwaters blog]