Bharateeya Blog Mela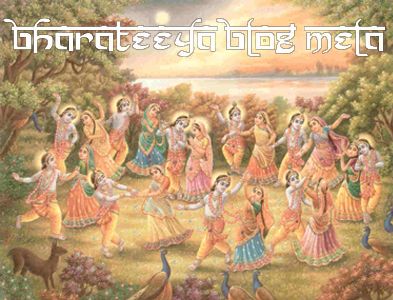 The blogosphere this week was on fire, with the sordid IIPM story ruling the roost. Though I was tempted to start off with a round up of some of the many excellent posts on the issue, I did not do so because -



a)

I have already linked to quite a few of them in my previous post here.
b)

I simply cannot include enough of those to call them a really representative sample of the spontaneous uproar that it has entailed. There are far too many.
Leaving that burning issue aside, I proceed to the rest of the many excellent nominations I recieved over the past 1 week.

Arzan, representing the Parsi Khabar, announces the 100 post landmark and invites
more contributions on the same.
NP Ojha, of Saara Akash, wonders

Ek hi ulloo kaafi tha, barbaad-e-gulistan ke liye
Har shaakh pe ulloo baitha hai, anjaam-e-gulistan kya hoga
Akshay, goes on a trip to gastronomic heaven, reminiscing
about Berry Pulao at an old Parsi joint in Mumbai.
Minal, waxes eloquent about Iqbal
, and gets inspired in the process.

Vivek, paints an evocative picture
of life in Afghanistan and makes me wish I was in his shoes.

Arzan, in overdrive this week, talks about Navratri in Afghanistan, linking
to some really nice pictures of the Bamiyan Buddha statues that are no more, and comments on the spurt in sales of condoms
during dandiya celebrations in Gujarat.

Mediumlatte is furious
about the latest fad of wearing colored bands to support different causes.

In the festive mood,Sreekanth throws up some intriguing parallels
between the Darwinian theory of evolution and Indian mythology.

Neelakantan explains
what is bringing the dollars rolling into the coffers of IT companies in India.

Sakshi Juneja sees a ray of hope
in the new Domestic Violence Bill 2005. She also expresses
her fondness for the Parsi community.

Roop Rai expresses her views on the paradox
inherent in "

Unconditional Love

".

And to round it all, Juneflower lists out her views
on legalising the oldest profession in the world.
Just before I was about to hit publish, I recieved a nomination through the rather informal channel of Instant Messenger and after reading through the post, could not resist including it, though it does not fall inside the time window. Blame it on my emotional bent-of-mind or whatever, do read it here.
The Bharateeya Blog Mela can also be found at The Truth Laid Bear's
UberCarnival