Kitaab Ghar - Dragon Fire
My first book review. On second thoughts, not exactly a review in the strict formal sense but more of a palimpsest of my musings on the book or piece of writing in question.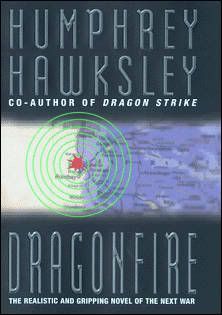 This is the second book by Humphrey Hawksley based on the geo-political equations in the Indo-China region after the earlier

Dragon Fire

, a book now I am dying to lay my hands on.
The book deals with a projected scenario where China attempts to establish itself as a global superpower through diplomatic and military maneouvers. Since it sees India as a threat to its attempts towards this objective, it extends a helping hand to Pakistan whose democratic government has just been toppled in a bloodless military coup and a eccentric hardline Army General has taken over, an almost transparent reference to Parvez Musharraf.
As Pakistan attacks India on the western front, Chinese forces invade India from Burma and squeeze India from both sides. The strong Indian response to the Pakistani prompts Pakistan to launch tactical nuclear weaponry in a bid to repulse the Indian forces' movement and thus in a rather enthralling series of events, the minor conflict turns into the world's first nuclear war.
Pretty soon, the United Kingdom, Russia, the United States, Japan, New Zealand, Taiwan and Singapore, all with their own agendas, join the fray as the novel hurtles to a climax of rather frightening proportions.
The novel makes very effective use of tactical and other deployment level military details in all the countries involved to present a scary and worryingly, all-too-likely picture of a war which no one can win.
It was after a long time that a book I read, forced me to skip my meals, in a bid to get to the finish as soon as possible.
A highly recommended read.
Now where do I get Dragon Strike ?