Reliance pariwaar mein aapka swagat hai
Just as I had predicted, the subliminal reinforcement of the marketing message that I was subjected to in a Reliance Java Green outlet has finally compelled me to go for the Unlimited STD plan of Reliance Infocomm. The new black handset is so much better than the original white one. Have a dekko.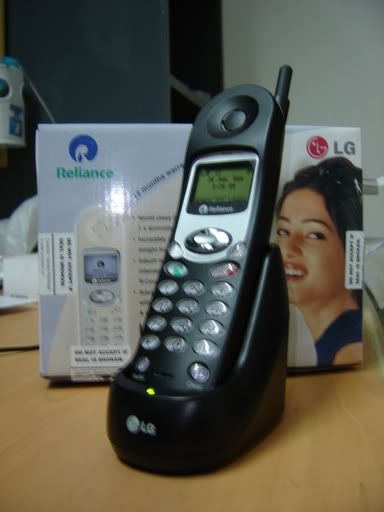 For a fixed commitment of

Rs. 771.40

per month (

700 rental & 70 Service Tax with 1.4 Education Cess

) I can make unlimited calls to any Reliance CDMA, WLL, Fixed Line or GSM number. I also get

Rs. 165

of non-Reliance talk time which can be used for voice calls only (

its talk time after all

) and not data services like SMS etc. Its a damn good deal if a substantial number of your friends, relatives, well-wishers or anyone else your talk to a lot (

ahem, ahem

) are on Reliance already.
What Reliance seems to be doing here, IMHO, is try to ensure that their ARPU (Average Revenue Per User) goes up to atleast twice the industry average and instead of having to cater to a broad range of customers, with ARPUs from Rs. 100 to Rs. 2500 odd, it has to focus on providing a reliable and steady service to customers who are committed to paying atleast this fixed amount every month, thus enabling them to be able to predict their future cash flows with higher accuracy.
Reliance also has twin benefits on the operational front here. All calls to non-reliance numbers get them additional revenue. At the same time, this scheme encourages people to buy twin connections, both from Reliance, in order to avail of the free talk. So one scheme that ensures reduction in customer churn, secondary purchases and positive reinforcement.
And if you think that they are losing revenue by carrying so many calls on their network for free, well then its not true. Firstly, if it was not free, no one would talk that much. Obviously, there IS no money that they are losing.
Secondly, because of this scheme, and this scheme ONLY, lots of people will abandon their current providers and switch to Reliance. Again, these people were paying money to the competitors. Any inflow from them hits the competition with a double whammy.
Whats more, only about 25% of Reliance's Optical Fibre backbone is lit, jargon for IN USE, so there is no threat of bandwidth clogging in the near future.
So there, a clever little piece of work from the pioneers in pushing the envelope.
Where Reliance outdid themselves was by getting a Call Centre agent, based in their mammoth facility in Navi Mumbai, to call me up and ask me about my impressions of the my new purchase and resolve any doubts which I might have had.
While all this is good & fine, what took me by surprise was the fact the lady in question read my surname and concluded that I am a North-Indian and hence spoke to me in chaste Hindi, way above the level of the normal conversational Hindi spoken even in North India, ans was frank enough to admit that she did so only because she assumed, correctly, that I would be comfortable conversing in Hindi.
Wow !
Just for the record, she was also capable of conversing in English and Malayalam. I have her name, email address and phone number

;-)
Now, if only I could get to Mumbai.
BTW, she doesnt have a Reliance phone but an Airtel one. Talk about irony.