And a party it was...
In line with the IIMK tradition of having a party for the incoming batch on the first Saturday, we had a party last Saturday too. The sheer exhaustion that it induced was the reason I could not blog about it, or anything else for that matter, despite Sunday being totally free. Almost the entire day was spent snoring away to glory.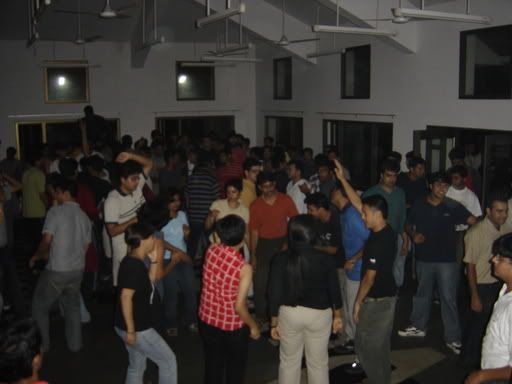 The enthusiasm of the newbies combined with the renewed vigour of the oldies to produce a night of fun and enjoyment for all. With the organisation in the able hands of Ravi & Rahul - Reuben had a lovely forced break ;-) - the drinks and munchies kept flowing for long.
DJ Kunal was in an

even-better-than-earlier-versions

mode and belted out one floor stomper after another. He seems to have gotten some new refreshing ideas in the remote villages of Karnataka during his summers.
What gets him full marks is playing

Kajra Re

(from the movie Bunty aur Babli) and following that up with some older Amitabh ditties like

Rang barse

etc.
The madness went on till 4.30 in the morning and between my twin jobs of taking snaps and dancing, I got totally pasted. Normal full-strength blogging service will limp back to normalcy in some time.