Hill stations at sea level and BUZZ
The august assembly that I found myself part of,for this trip, consisted of Nitai, Qaynat, Vikhyat, Dheeraj, Madhu, Surabhi and Ravi (in order of seating) apart from the driver and yours truly. Now, for the benefit of people who have not had the good fortune of having met these dignitaries, I must inform you that atleast four people in this list belong to the category called 'well fed' ;-)
The vehicle that was supposed to be our carrier for this trip was a black Qualis and since Baba assumed that it will have the usual Jeep-style parallel benches in the back, 8 people were lined up, for economies of scale. What he had not bargained for, was a Qualis with the normal seat in the back parallel to the two seats in the front thus restricting the capacity to 7. Fine pickle to start with.
After a lot of head scratching and generous assistance from a certain representative of the student body lovingly called 'Mr. Sharma' by my colleagues on IPMSGR, it was decided that Madhu, Surabhi and Ravi will occupy the back seats (good for nothing back benchers all) and Baba will occupy the pride of place on the front seat. This left us four, supposedly thin people, to manage in the middle seat.

Ouch

. Suffice to say that had it not been for Qaynat's extremely generous and considerate, and as far as I can recall stubborn, decision to sit in a very awkward position, we would have had a very stuffed-vegetable kind of trip indeed. Thanks Q.
The trip started off on a promising note with Baba in full flow from the onset itself.
His 'BUZZ'es,stuff of lore now, and some real sharp commentary from Dheeraj ensured that the laughs never stopped for almost the entire time we were in Kerala.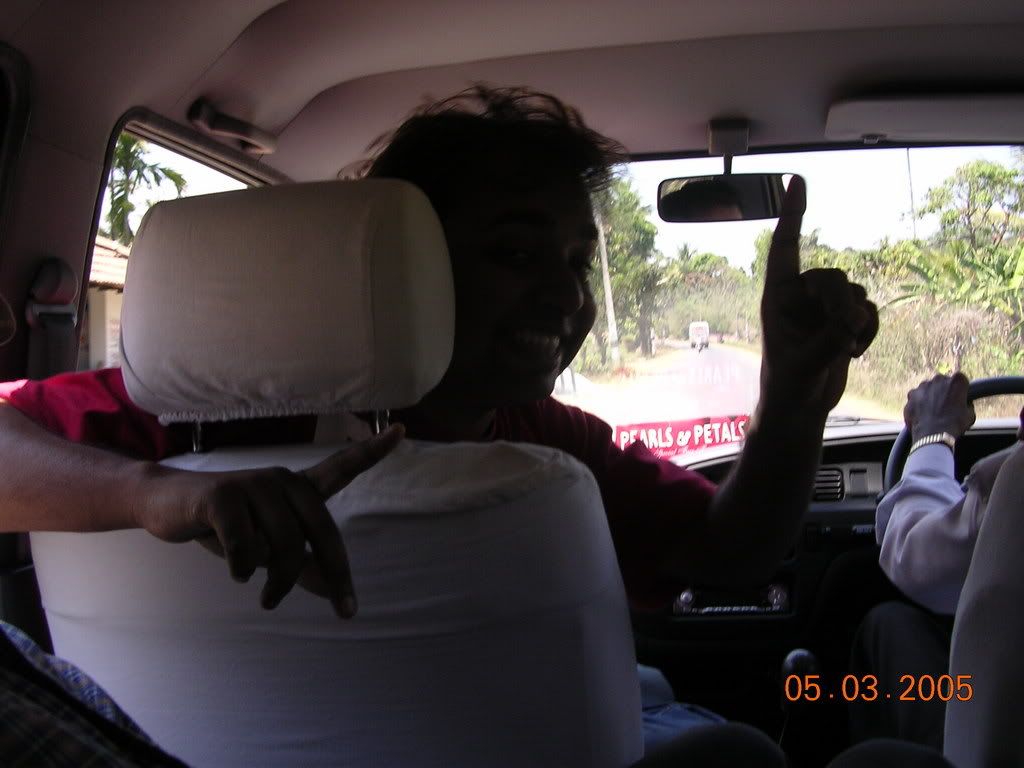 Witness him going loco with his antics.
Baba had informed us that it will take about 4-5 hours to reach our destination, the hill station Coorg. He was a bit off the mark,

just a bit

. After a full 4 hours of continous driving, we were still in Kerala with no possibility of any elevation happening pretty soon. Another hour of driving and crossing the Karnataka border later, we finally realised that we had entered Coorg (the district) and I had begun to wonder if the highest point in this region was lower than A hostel, in my humble opinion the lowest point at IIMK.
All of us were pretty fidgety by now, what with thirst, hunger, boredom and Baba's incessant BUZZing. Finally we reached a small town called Gonikompa where after querying locals (face to face) and prior visitors (using Surabhi's mobile, causing her to go into paroxysms of rage fearing that the charge will be used up thus cutting her off from humanity,

methinks she was worried about humanity in Canada in particular

;-) we realised that we had to go another 40 odd kms to a place called Madikeri from where we can even begin to ask about tourist-able places in the region.
Enthu totally deflated by now, we decided to enjoy the culinary offerings of Karnataka (proudly trumpeted by Surabhi) and hence after back tracking for about 1.5 kms entered a restaurant which promised vegetarian delights. And delights they were, with an exhaustive menu consisting of

Peas Masala

and

Tomato Fry

only, we nevertheless pigged on the same with gusto.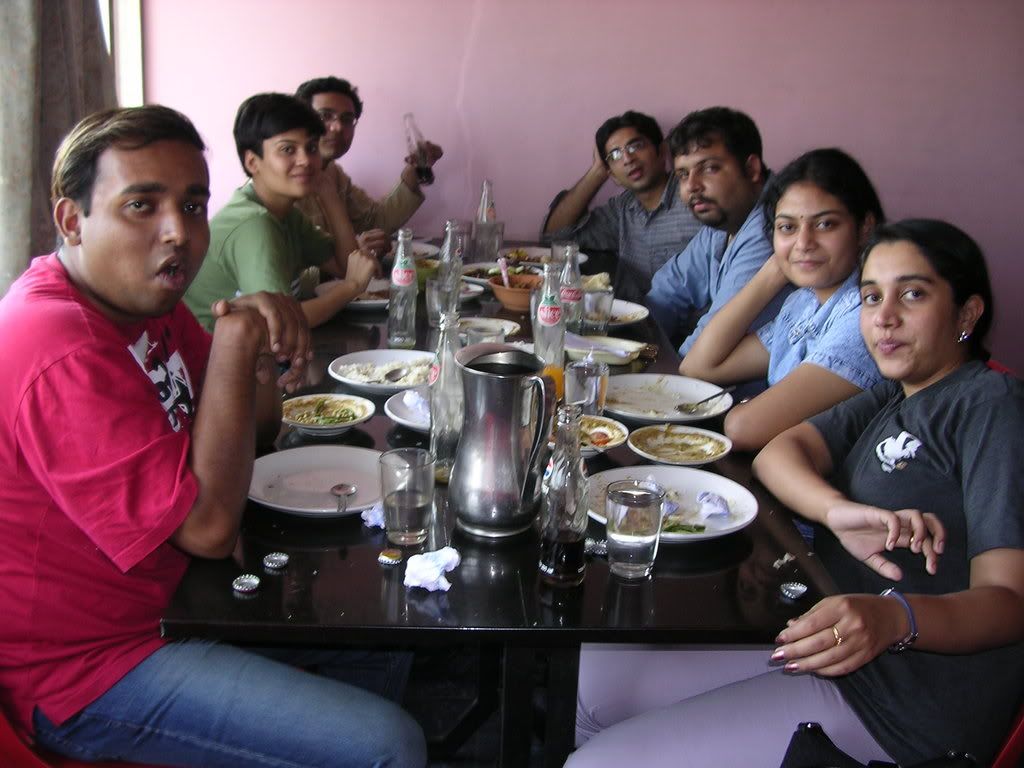 veg food at its best.
We reached Madikeri where Nitai got to the task of finding out our next destination while Qaynat decided that her best angle for a snap is only possible if she is on the roof of the Qualis and hence up she went after a lot of huffing and puffing from all and sundry.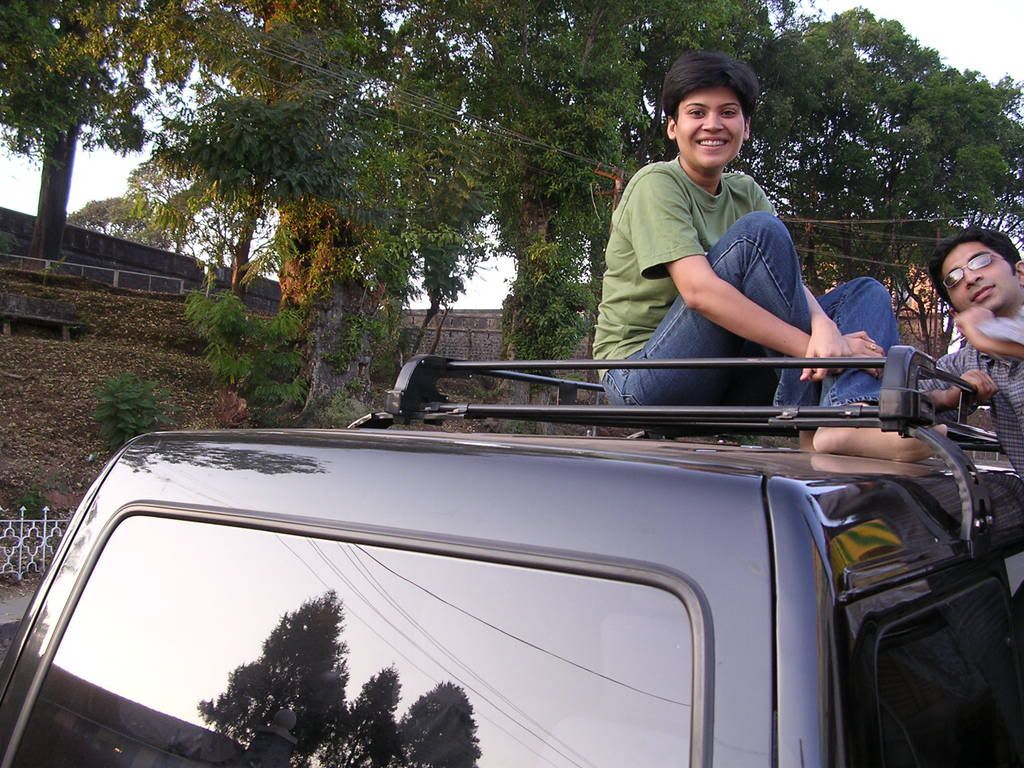 Q on her lofty perch.
By this time Baba had managed to convince the owner of a coffee estate to be our host for the night and off we went following him in his Maruti 800. The place was a bit secluded despite being close to a highway of some sort, nestled amongst hills and forests and of course coffee plantations.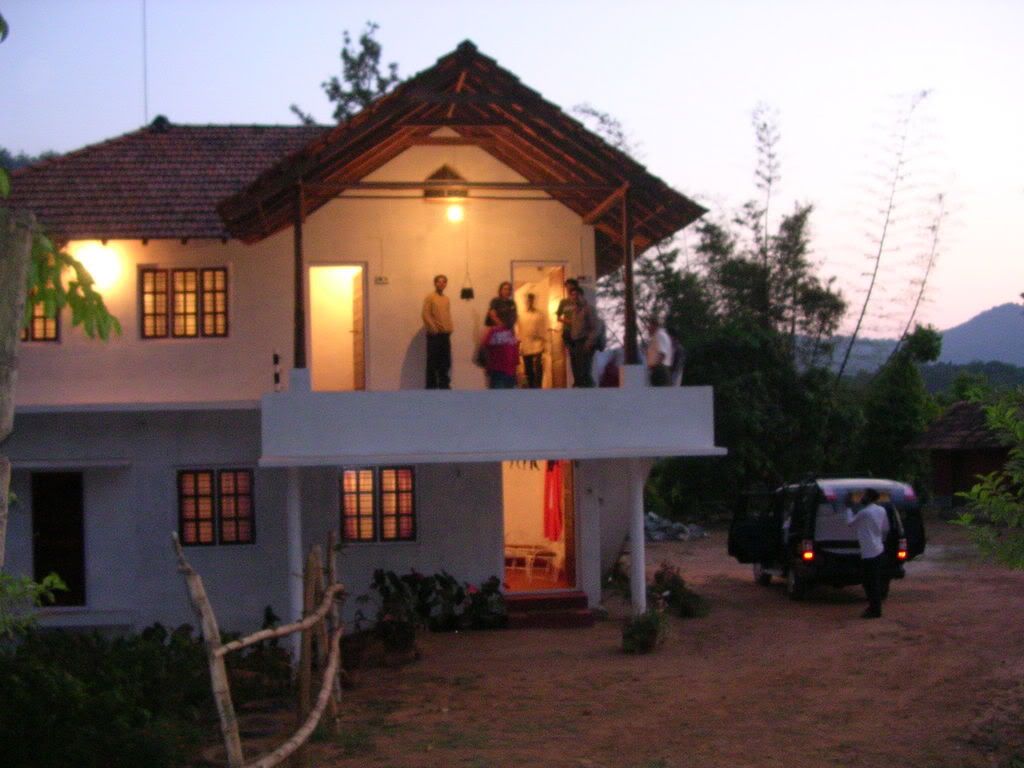 The first view of the cottage, our abode for the night.

The place was pretty nice and spacious and pretty soon all of us were settled comfortably in the terrace shown in the pic above and soaking in the atmosphere while talking about things which almost always mean nothing. With free coffee and not-so-free beer doing the rounds, the philosophical sides of people started rearing their ugly heads.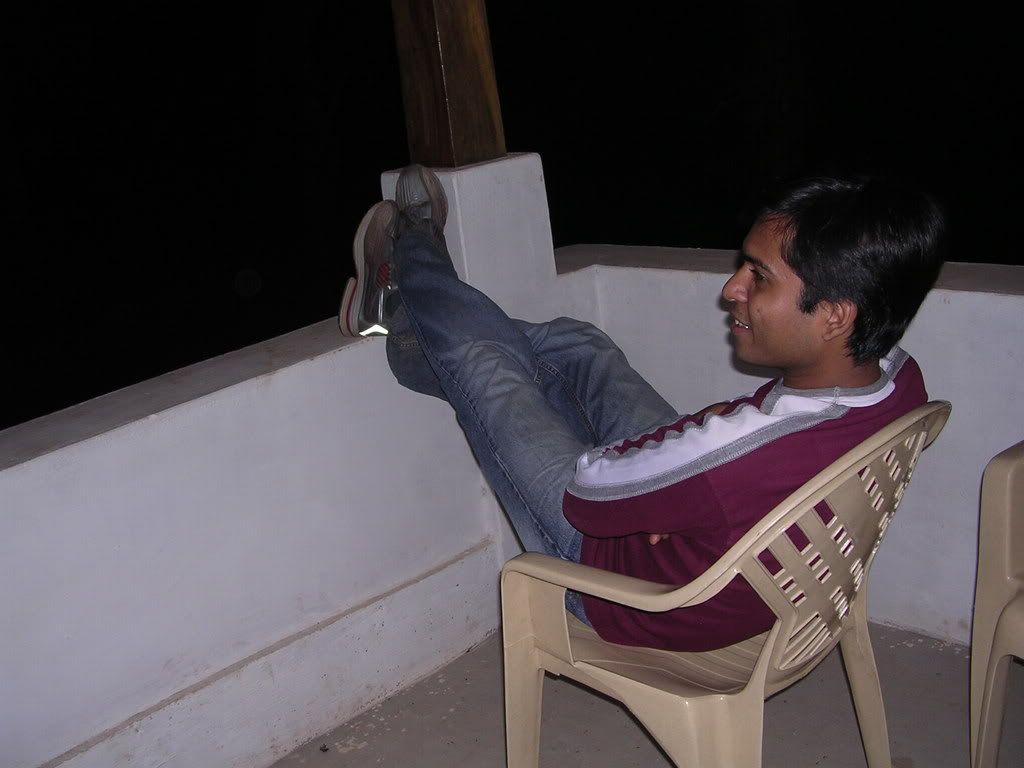 yours truly comtemplating on the ironies of life
Our dinner for the night was a buffet spread and I liked it, way better than any veg restaurant in Surabhi's Karnataka had offered till then. With local delicacies and wholesome rice on view, I gorged.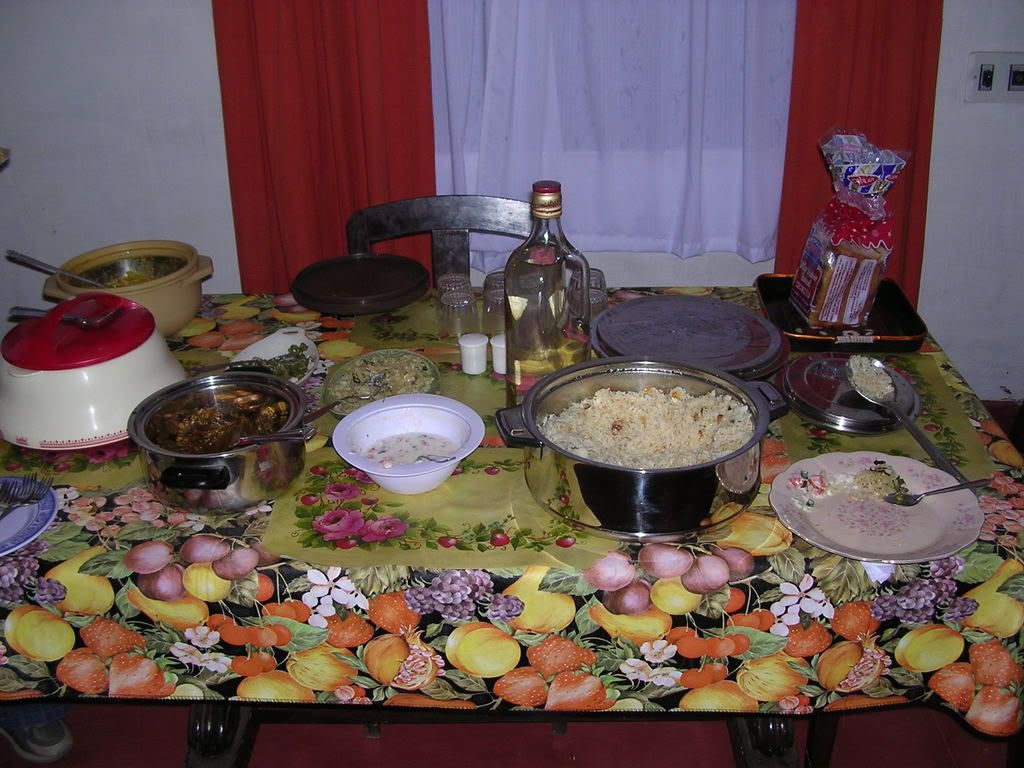 khana khazana
Food over, it was time for us to head towards the bonfire which had already been lit by our host. With Baba not accompanying us due to a sinus-induced headache, things were pretty dull until Baba was persuaded to join us and the party was on. With a raucous game of Truth and Dare to start off the proceedings followed by an intensely fought bout of Antakshari characterised by both Dheeraj and Vikhyat creating new songs on the spot. That they did not even despite this obvious edge over their opponents was largely due to the amazing repertoire of songs that Surabhi drew from whenever our team was in trouble. Thanks Surabhi, we owe you one!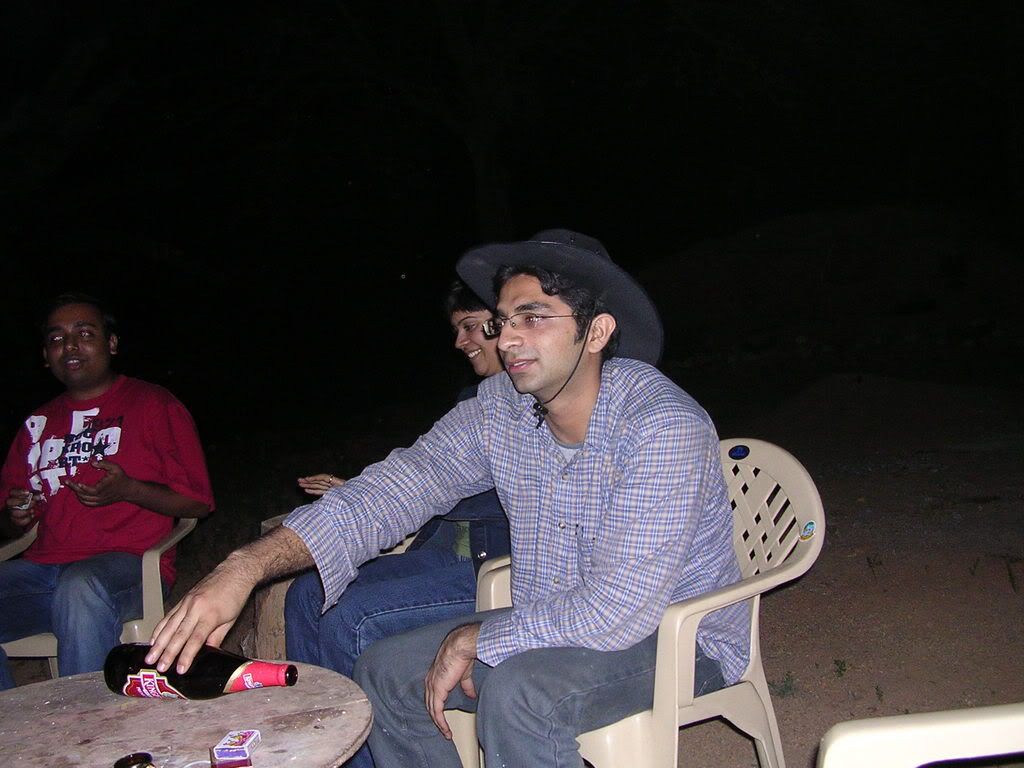 Dheeraj on the bottle - Truth and Dare in progress
The bonfire
As the games got over people trudged off to sleep for varying lengths of time in preparation for the trek that was scheduled for the morning while Surabhi and myself remained awake talking about some really wierd matters (there must have been something in the coffee dammit, I dont drink) while the others slept.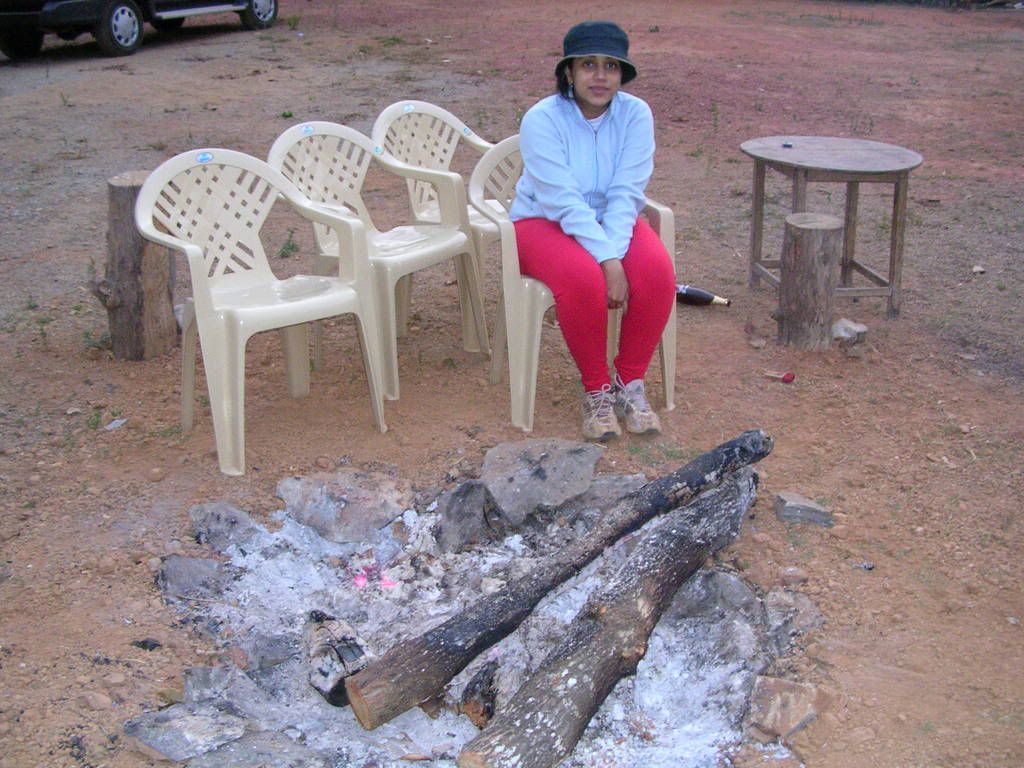 Surabhi besides the remains of the bonfire
to be continued...