Coorg Boating Club & Tibet
As everyone, except Ravi, woke up to get ready for what was to be a simple jungle walk and which turned out to be a full fledged mountain trek, I could feel that something was amiss. And I was proved right. I do not claim to be a veteran trekker like our dear Vikhyat but having had my fair share of treks, I didn't feel that the terrain we were about to traverse was something that is usually what trekkers go for. The forests and shrubbery that I was seeing in the area was more of thick, thorny, dry (verrrry dry) shrubs, bushes, trees and what not obstructing your way and not the usual typical trek vegetation that you would find in say Wayanad (Kerala), Lakhaniya ki Dari (UP) or even Tawang (Arunachal).
The fun of actually pushing through dense vegetation to push your way through and looking for firm footholds to register progress was totally missing here. It felt as if we were a really stubborn lot trying to create a trek where none was suitable. Anyway, ab pachhtaye hot ka, jab chidiya chug gayi khet
.
Anyway, immediately after fortifying ourselves with the gratis Coffee, we set out, only slightly delayed by Surabhi and Madhu's insistence on picking a few ripe tomatoes in case someone felt hungry on the trip.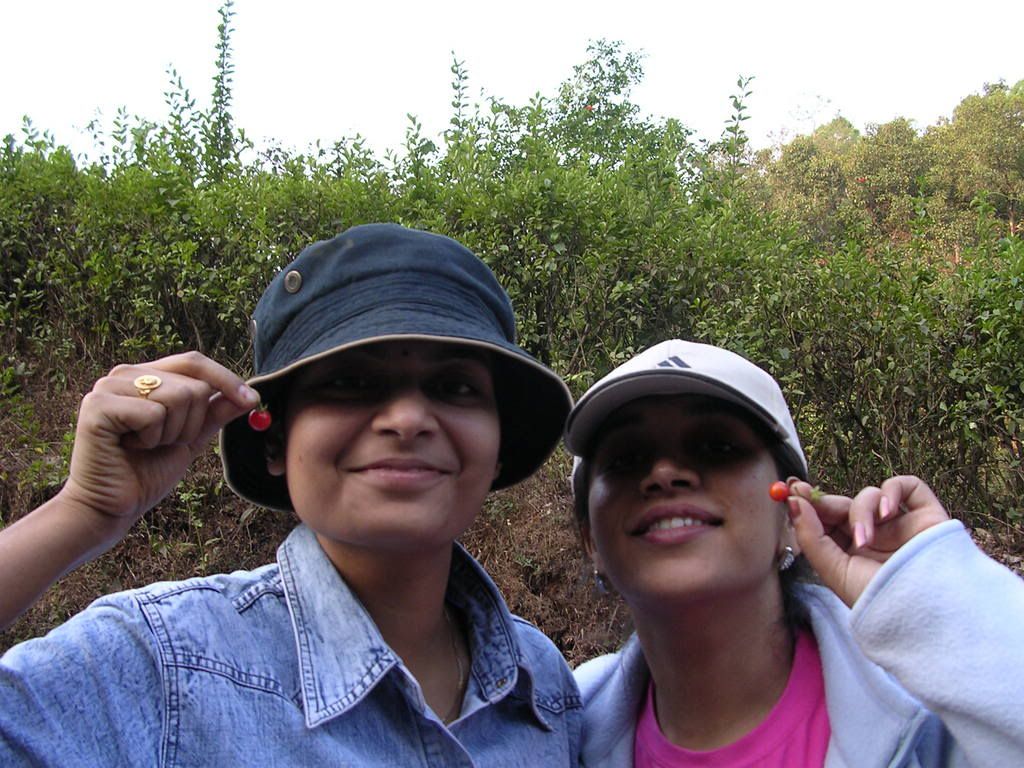 Surabhi and Mad-who with their prize pickings
It was hard going with a lot of falling for most people as we struggled towards the top. Vikhyat, the expert led from the front and I brought up the rear for the most part though I did occasionally move ahead to take snaps of people.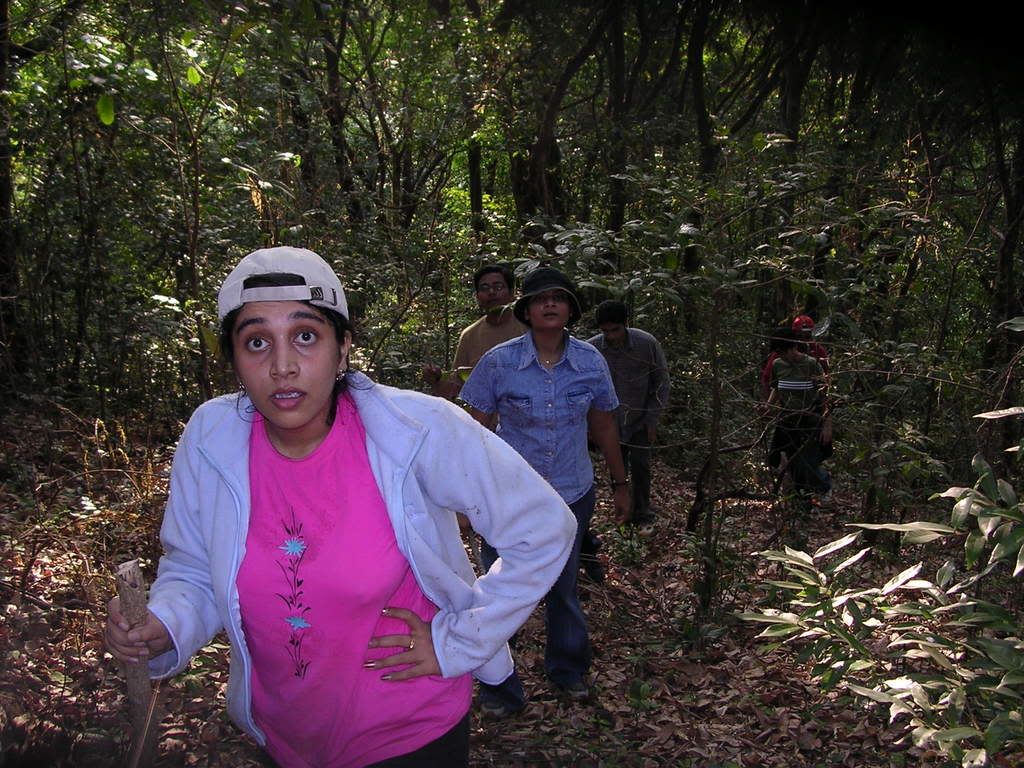 Surabhi on the trek with an expression which I dont have words to describe
We reached the top without any major mishap and spent about 15 minutes contemplating on the extent of canvassing by political parties which had adorned a tree with their flags. Another pleasant surprise was the fact that Nitai's cellfone was able to recieve a full strength signal. Kudos to BSNL's prepaid mobile service Excel.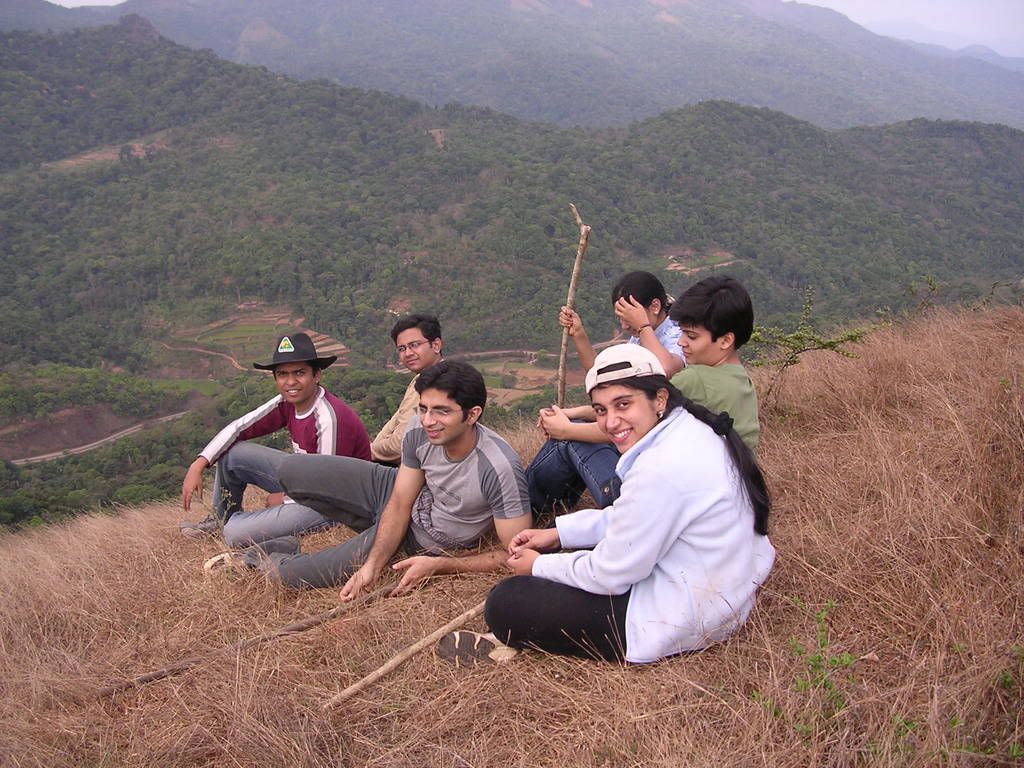 All at the top

The twist in the tale was brought by a call that I got on Nitai's cell that caused great mirth later and cause to Dheeraj for ribbing me about my capabilities of walking on air, water etc since I managed to speak on the mobile and hold the digicam in the other hand while walking calmly (sic) downhill while the others were finding it difficult to even take a step without using both hands to grap supports and quite a few (read members of Coorg Boating Club) were mostly reduced to sliding down almost all the way.

The trek down was many degrees worse than the one up as our incomparable guide decided to take us back by another way which he thought was better. Alas, it wasn't anything of the sort and suffice to say that most of us came close to losing life or limb or both on various occassions. That we made it with nothing to show for our exertions but minor scratches and drag marks on jeans (apart from a very myseriously inexplicable tear on Baba's jeans) is a testament to the resilience shown by the people and the manner in which everyone helped each other in negotiating the trickier patches. It was quite unlike the experience I had in Wayanad on a trek in the 1st term with Vikhyat and myself being the members common to both.
I must add, however, that Ms. Madhu did, at one point, assumed murderous intentions and kicked a rock into action that, had I not shouted out loud to warn the others, would have taken out Baba, Dheeraj, Qaynat and Surabhi for sure. I believe Vikhyat being far ahead as the advance scout was out of harm's way I believe but I may be wrong.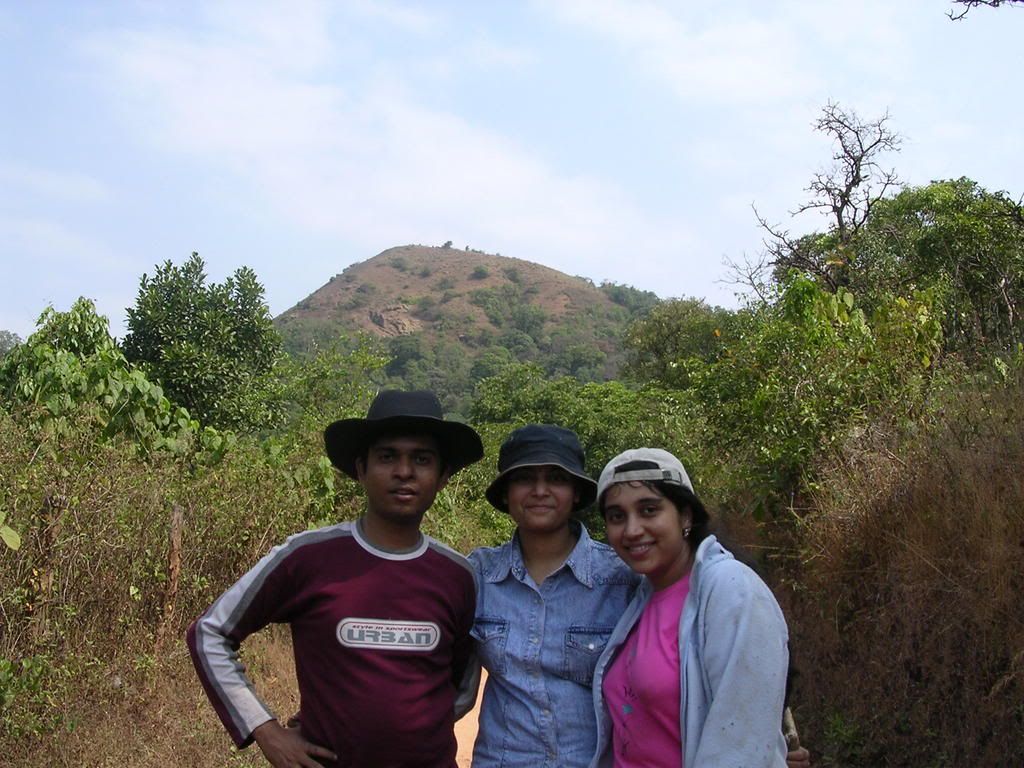 Yeah that's the peak we scaled !
After coming back to our home-base, we found Ravi still slumbering away to glory.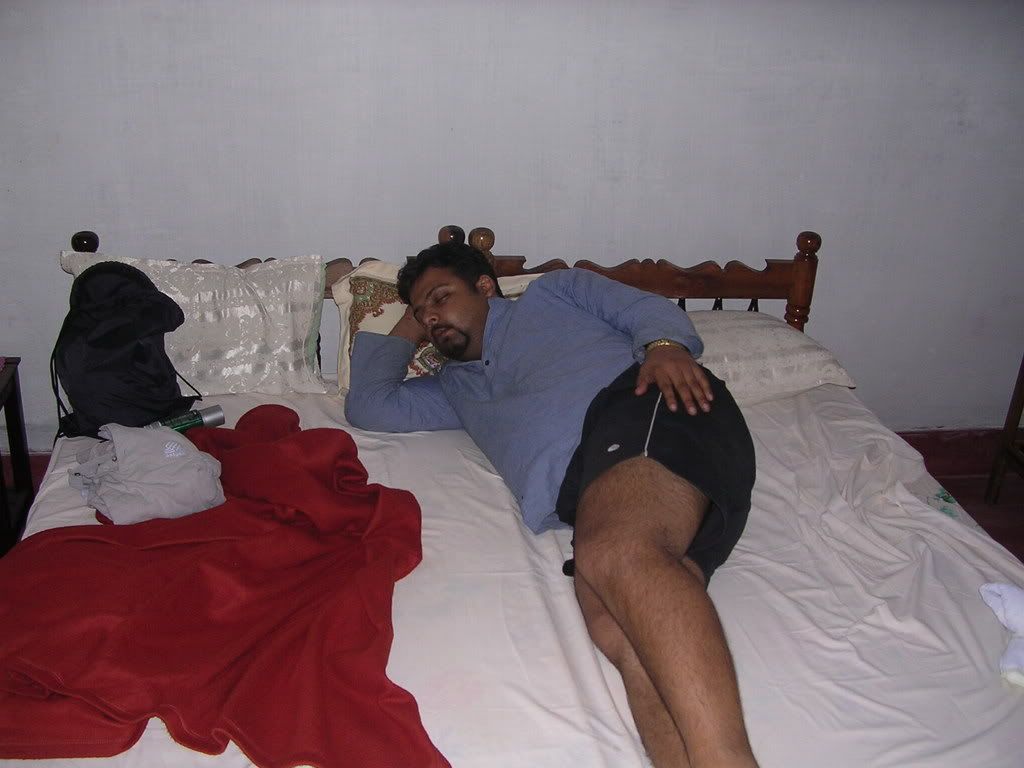 Some people have all the luck, dammit !
It was at this point that the incomparable Ms. Surabhi was perplexed by the sodden state of her precious jeans pocket only to realise that it was caused by the tomatoes that she had so thoughtfully stuffed in there. Now that was an idea whose efficacy in creating Puree cannot be questioned though why would she want to do that in this particular occasion is a question that remains moot.
A quick bath, with suspiciously dark water, and a sumptous breakfast later we were all set to proceed to our next destination, Abby Falls.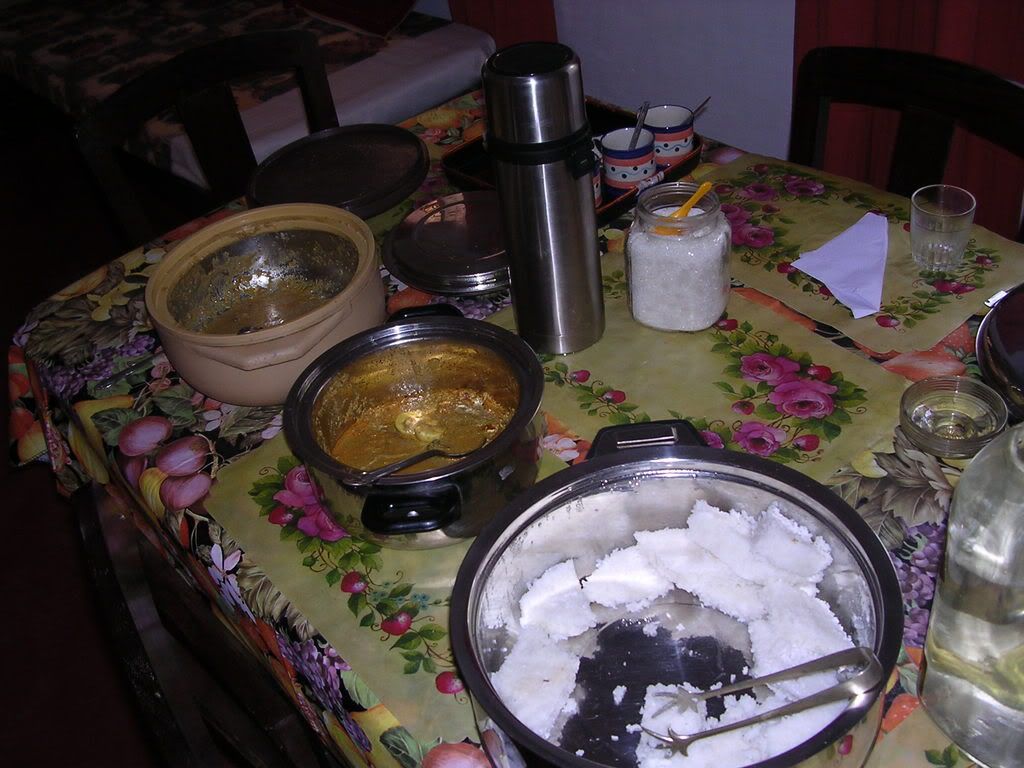 breakfast spread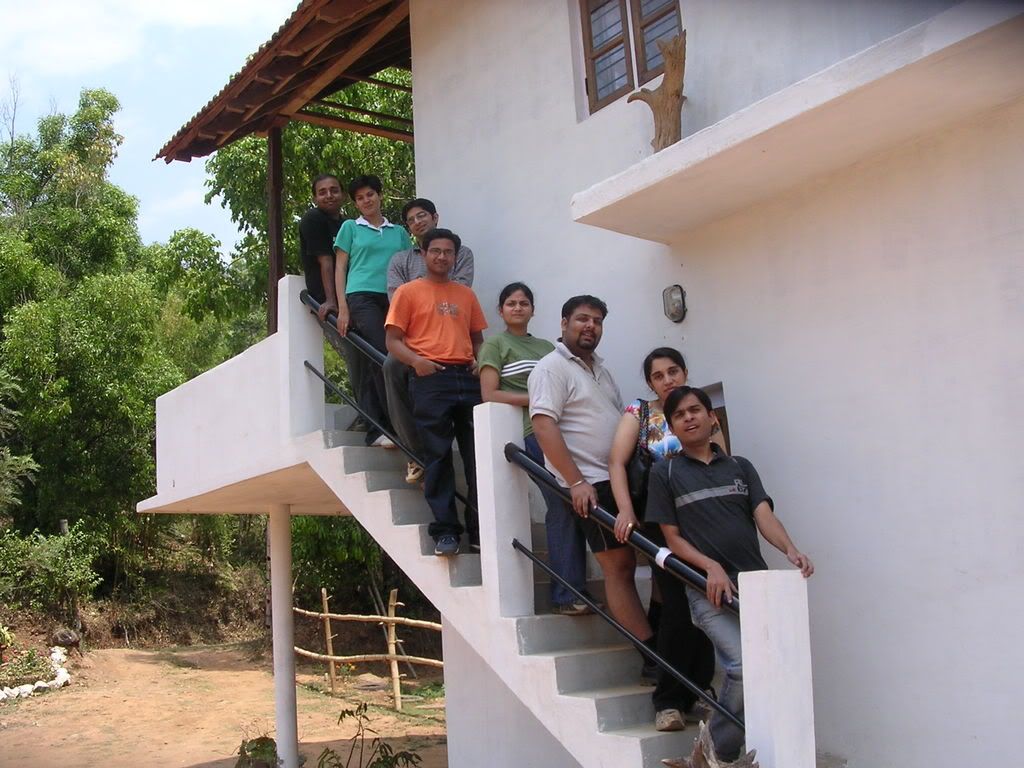 all of us, ready to depart

Abby falls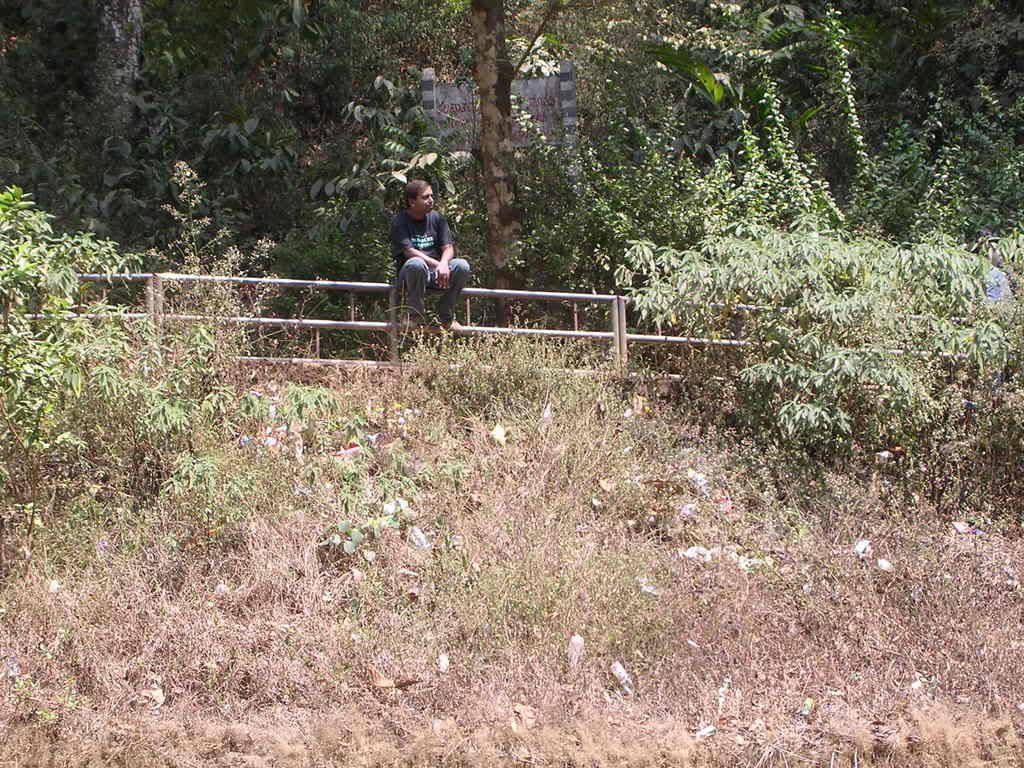 that is Baba up there, contemplating on the ironies of life
After Abby falls we piled into the Qualis with an intention to fit in a trip to a Tibetan monastery that was about 40 kms. away and Nisargadham another idyllic buddhist island, before he headed back to IIMK. We stopped at a roadside Bar & Restaurant where ice was NOT available. Hmm, that's unusual,wotsay ?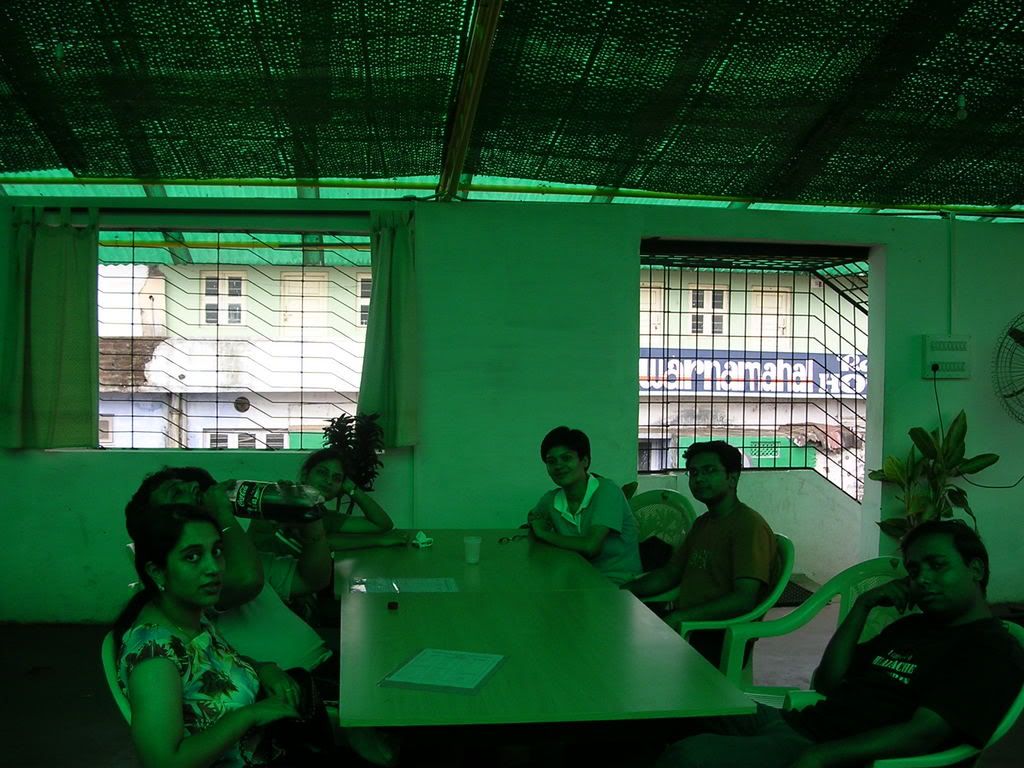 food at the bar without ice
The monastery was stunning, to say the least, from the outside and serene, peaceful and comtemplative from inside.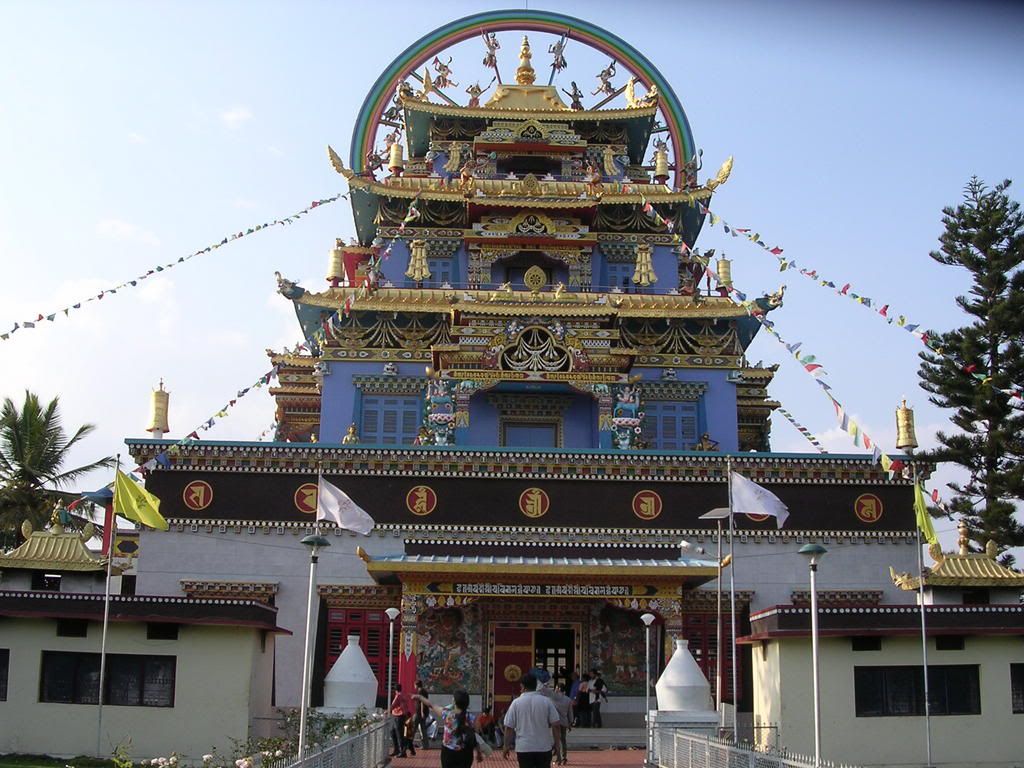 The monastery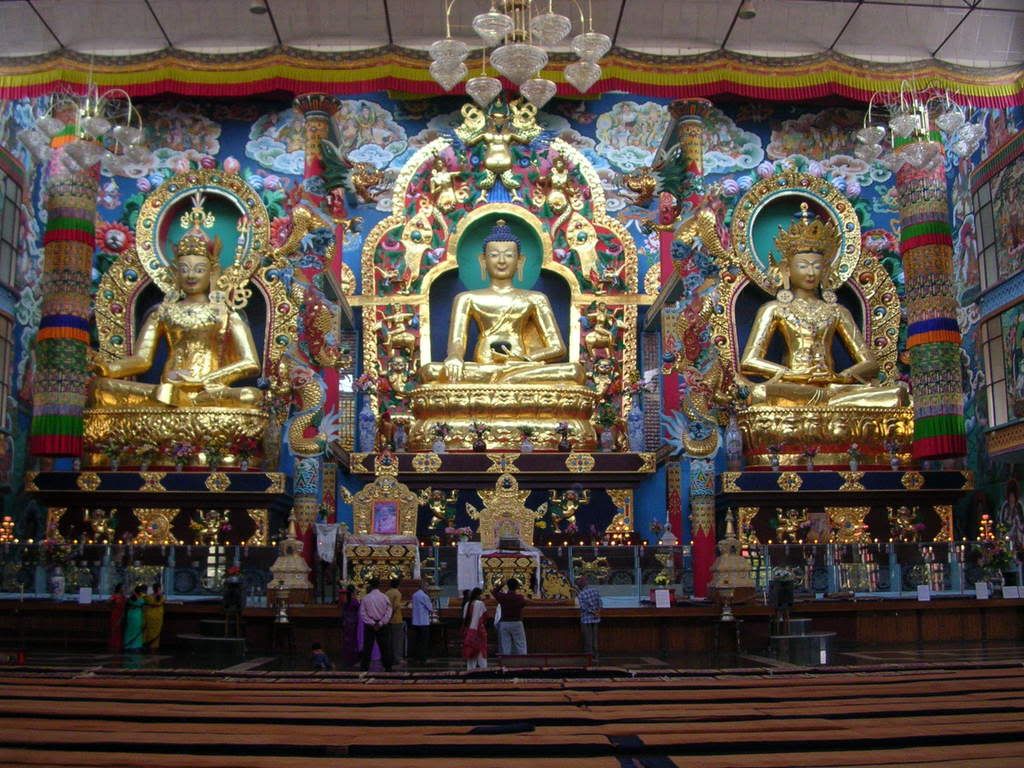 the inner sanctum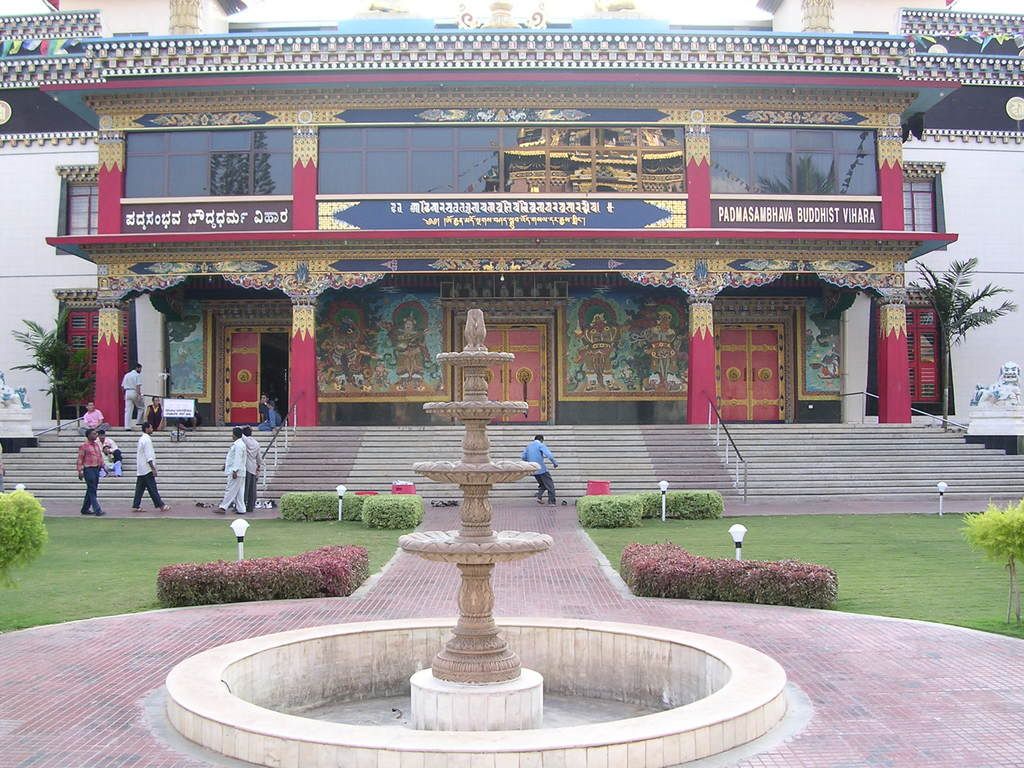 the chaitya hall, note the prakrit inscriptions
It was here that me and Baba discussed the extreme similarities between the scriptures, symbols and tenets of Buddhism and Hinduism and went on the exchange views on the role of the state in nurturing a religion which is all but dead in its land of birth. That the very essence of religion, that of providing a very private and personal means of giving a context to man's existence and all his actions is in extreme contrast to the way modern religions tend towards more and more ostentatious manifestations of their ideology with an intent to reducing the sceptics to awe and the believers to pride, is a irony that I have always found hard to come to terms with. It always hits me whenever I find myself in any such place, regardless of the faith espoused.
By this time it was too late to go anywhere else but back to campus and that is where we headed. A few wrong turns (methinks, they were intentional, to earn some more money) and a utterly forgettable dinner at some god forsaken place later, we were back on our resort on the twin hills, IIMK.