Jyeshtha Chhatron ka vidaai Samaroh
Hamare jyeshtha chhatron ke prasthan ka samay sannikat hai. At-aiv hum kanishtha chhatron ki or se unhe ek vidaai samaroh ke dwaara apne kritarth hone evam unke sahayog ke apekhsha rakhne ke sandesh dene ka nirnay liya gaya.
Decision taken, at the cost of Rs. 1000 each, ouch,

and I dont even drink :-(

, the usual round of mudslinging started with Nishant Singh and Co. coming out all guns blazing. Some serious research work later, where people found time to call up Taj and enquire about their tax structure and delved deep into excel sheets to figure out the formulas lurking behind the cells, the heavy ammunition was unleashed. The Student Council members are a dazed and scared lot these days. If they do something, they have to explain why did so and on whose mandate. If they dont, they are asked to show cause as to why they did not do so. Nice and comfy position to be in, I must admit. Baba says he is glad he lost the elections the first time round. I am glad I did not even stand.
On to the preparations. Nimcompoops that the junior SCON members are, they promptly roped in the old firms of Mssrs. Reuben Spirits & other Liquids Co. and Mssrs Ravi Logistics & Foods Inc. to do the dirty work. With assistance from the enterprising new startup, Mr. Shetty Transportation Agency, everything was in place for a rocking night of fun and what else, but more fun.
I must note that had it not been for the sheer persistence of Ravi and Rueben, we would not have seen the endless packs of Tropicana fruit juice (esp Grape ;-) ) at the party. Evidently there is no distributor of the said product in this sad excuse of a city and the shops seemed to have run out of the same. How they managed it is an excellent example of Supply Chain Management where there was NO supply chain in the first place ;-)
Three cheers (of

Tropicana Grape

) to both of you :-)
The party started off with what was termed as a group song by all the committees like Backwaters, Scon, Horizons etc. Having rehearsed quite a few times, it was expected to be a decent performances. What transpired was something that must get full marks for sheer mayhem. No sync with the music, no attempts at lyrics, no attempt to sing in tune or rhythm, absolutely nothing musical.

Papa kehte Hain

never sounded so hopeless.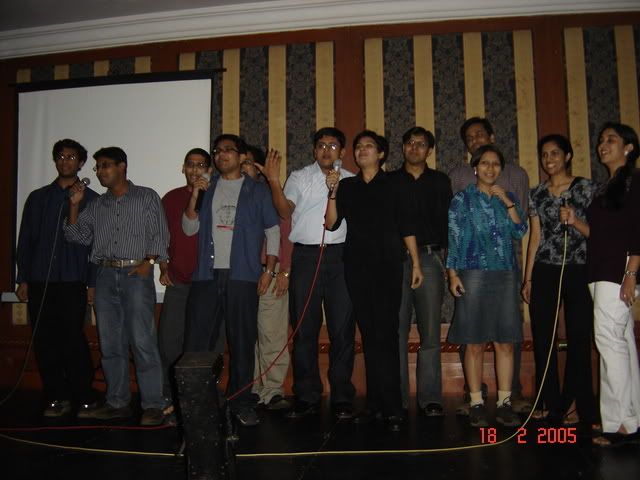 Papa aisa kuchh nahi kehte hain!!!
This was followed by a speech by the inimitable Vikhyat Srivastava that no one could fathom and was cut short by a few alert Scon members who whisked him off stage after apologizing for allowing him to take the podium.
A dance (???) performance by Sandeep GoYal, Kunal & Vikhyat (not again!) later, it was time for Chiranjeev Das to strum the guitar and SandiPORN HandBomB to belt out

purani jeans

and being the bong that SandiPORN is, he managed to muddle the lyrics despite having a sheet in his hand. So instead of woh bahar jaana, KUD ke diwaar it became wo bahar jaana, CHADH ke diwaar. After this came a speech by UD exhorting us to become non-MBAs (

what !?! You must be joking, after paying 4 Lacks I become a non MBA ? who will pay your salaries before your book store turns profitable or your resort crosses the BEP (break even point, for the nonMBAs?

). Jokes apart, here is a man whose leaving IIMK will leave a gaping hole that is not likely to be filled soon. A great teacher, someone who enlivened the subject and managed to explain it in a way that someone as moronic as yours truly could get it. Hats off to you, Sir.
yeah, I am there in that snap, just look closer.
A few attempts at impromptu speeches by Bhonpu, Khandu and Rupam (on public demand) later the junta piled on the food (inadequate arrangements by TAJ again, they must be taught a lesson sometime) and then the BAR opened and all hell broke loose. Previously sane minds went loco. My old buddies Baba & Mayank decided to make good their returns on capital employed and seem to have got spectacular returns.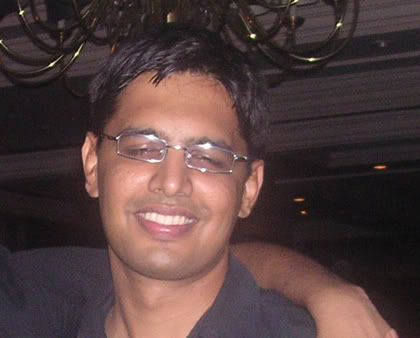 placements..wo kya hota hai!!!
meri zindagi to bacardi ke naam kurbaan hai.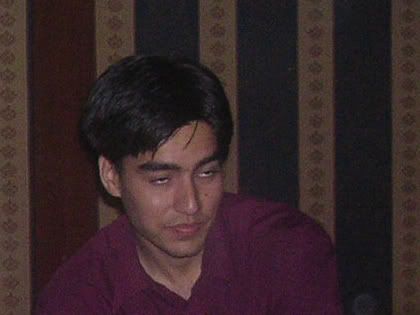 ankhen bhi...hoti hai dil ki zubaan,
bin bole..karti hain, halat ye meri bayaan !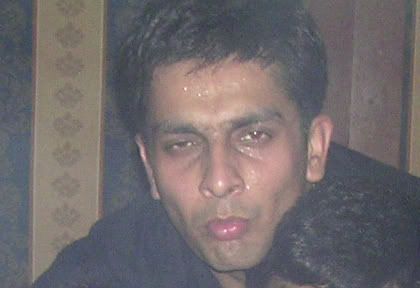 lag raha hun na prem chopra ka WORTHY successor ?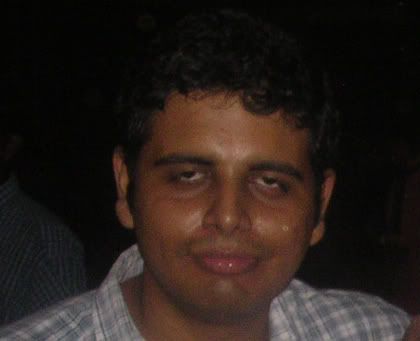 Kaun yakeen karega ki main UC ke final tak gaya tha..hic !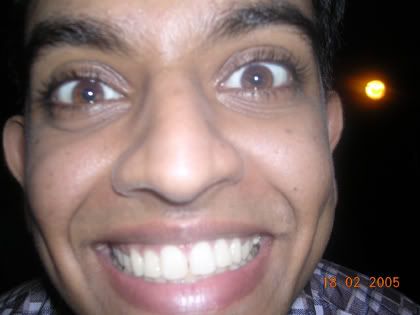 ye bhaisaab Singapore jaane waale hain..naukri karne..
bhagwan bachaye inki company ko.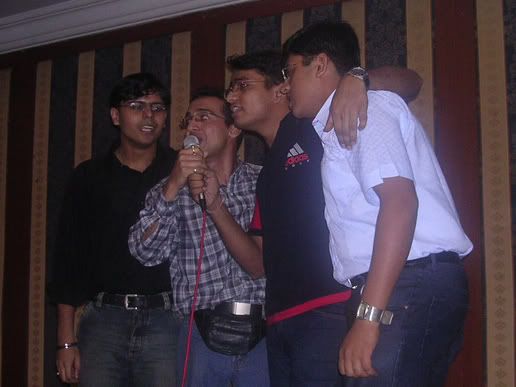 Student Council attempting to regale the audience with their vocal talents.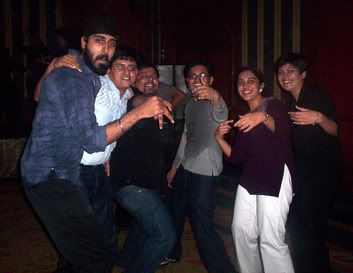 Rohit trying to get snapped in any happening group.
Dime a Dozen.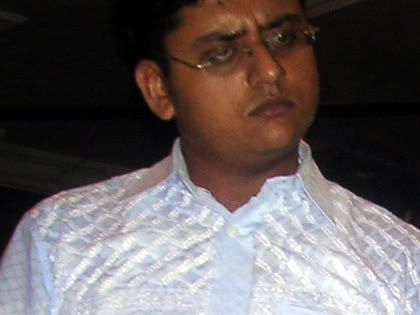 Rohit making this inexplicable expression at the party.
Rare and expensive.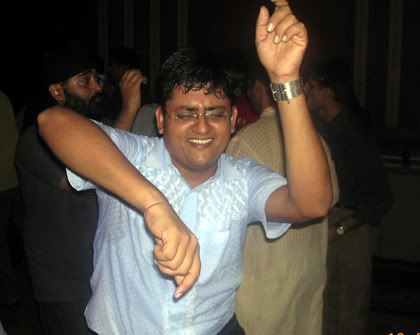 Rohit in full flow.
PRICELESS.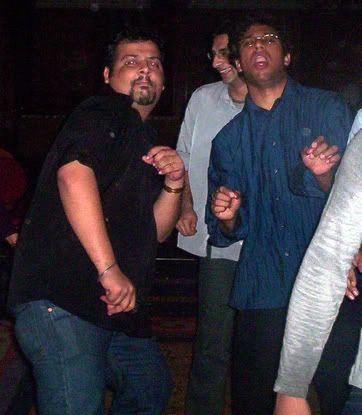 Ravi & PakoW going full blast.
DUI has a new meaning.. Dancing Under Influence ;-)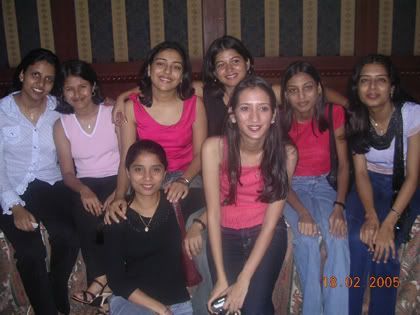 "their" Glamour
"Our" Glamour.
I m talking about the guy in blue and white striped Tshirt in the back ;-)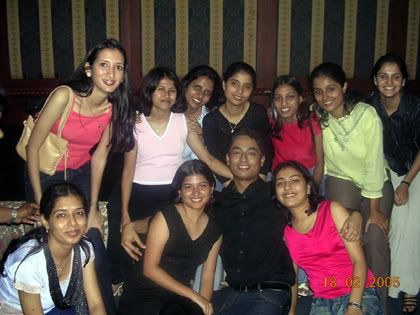 Krishna among his gopis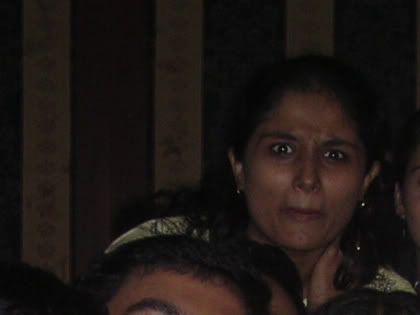 What is all this tomfoolery ? I DO NOT APPROVE.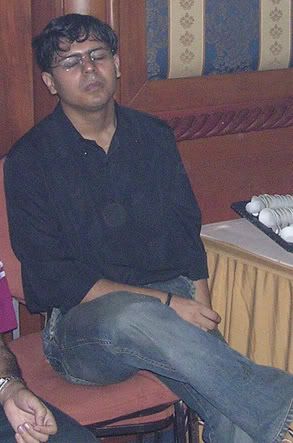 Student Council, Hic..
what the Hic..oops Heck..is that?
Mujhe peene do !
What goes unanswered is the question -
Where was the Farewell in this party ?
Where were the emotional outbursts, the melodrama, the hugging, the tears (not counting a certain Junior damsel here), the pain ?