Yaatrigan kripaya dhyaan den..
Yaatrigan kripaya dhyan den. Gaadi number 1094 Mahanagari Express apne nirdharit samay dopahar ke 2 bajkar 40 minute se 3 ghante deri se chal rahi hai.
Your attention please, train number 1094 Mahanagari Express which was scheduled to arrive at 2.40 PM is now running late and is expected to arrive at 5:40 PM.
Five days of being fed to the eosophagus and still being reprimanded for not eating enough, being looked after like a 5 day old infant, being spoilt rotten with tender love and care and of course the food, having come to an end it was time for me to leave for Calicut by the aforementioned train which Baba was supposed to have boarded form Varanasi at 11 in the morning.

That it became 3 hours late would have meant that he must have been stewing in the train as it crept along on its way to Allahabad from Varanasi and it showed on his face as he came down from the bogie the moment the train stopped at Allahabad. My father and a friend of mine had come to see us off and we shared a cup..err

Kulhad

..of tea together and then got into the train to continue the first leg of our journey which was to take us to Mumbai where we intended to celebrate the onset of the new year.

The train reached CST at 7 PM and we promptly deposited our luggage at the cloak room and walked all the way to the Gateway of India where after negotiating billions of people we ran into Ravi Girdhar who was rushing to board a boat for the New Year Celebrations. Lucky Bastard!

It was at this time that Baba made the solemn declaration that one day he will perch himself in the executive suite of the Taj Hotel in front of the Gateway and look out onto the sea. What was worth noting was his insistence that he will arrive at the hotel to do so only in a Opel Astra and no other car whenever it may be!

Hmm..I am wondering...



After knocking Baba on his head to break him out of his reverie, we proceeded to walk along the sea only for Baba for catch sight of a streetside vendor selling all kinds of stuff for kids. The child in Baba made a mighty racket and before I could say Infantiasis Baba had bought a contraption which cannot be decribed in any usual terms reserved for toys and hence I wont waste my time trying to do so.

After walking some more, we took a taxi to the Churchgate Station from where we took a local train to Vile Parle Station. Another quick trip in an autorickshaw later, we found ourselves at the famed Chowpatty. Baba again started clamoring for a Cornetto of all things and I had to put in some effort to draw him away from the Ice-cream stall. We heralded the arrival of the new year right there at Chowpatty amid plates of Pav Bhaji, Kulfi Falooda and Tava Pulao. We stayed at the beach watching the revelry until the cops came out in force and chased everyone away from the beach.

It was around 3.50 AM by this time and so we ducked into the Mocha Cafe nearby where be killed about 2 fun hours talking crap and analysing the entire business concept of the mocha chain of cafes and came to the conclusion that they have wasted a lot of money in the process.

Coffee over, we took the next local to Bandra and came to Bandstand and shot the breeze while staring out at the sea, each of us lost in our private reveries as this snap of Baba will vouch.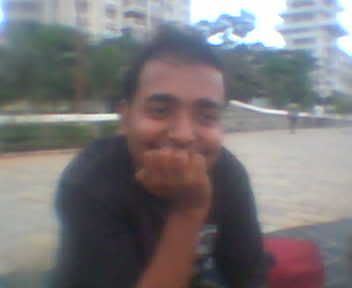 Intellectual recharging over, we realised that pressing natural emergencies must be taken care of and hence proceeded to Linking Road, seeking the McDonald's outlet there in the assumption that they would be open at 8 in the morning. Well they were not.

Another runaround (rick-station-rick) later, we found ourselves at INOX, South Mumbai's first Multiplex and I was suitably impressed by their loos. Sparkling clean does not even begin to describe them. Baba was so moved by the beauty of it all that he even thought of brushing his teeth right there and did enter the place with his toothbrush firmly tucked in this pocket. It was the presence of the attendant that prevented him from becoming the First Person in History to brush his teeth in a Multiplex.

Since we were already inside INOX we decided to watch the movie The Polar Express. A delightful journey through a young lad's beliefs with Tom Hanks for company in three different avatars, the film is recommended viewing for everyone who has the child in them still alive in some corner.

By this time we were getting garrulously hungry. Getting adventurous seemed to be the order of the day and hence we hotfooted our way to Not just JAZZ by the Bay, a fancy restaurant in Nariman Point. What deserves special mention is the mocktail Raspberry Royale which tastes EXACTLY like diluted and chilled

Glycodin

(I swear, try it and you will agree). At Rs.55, surely the costliest cough syrup around, I am sure. The pasta and pizza were strictly OK, nothing special.

A few more hours later, which were spent in going to Vashi just to find out if we could catch a movie there at the Meghraj theatre and then browsing through the Planet M at CST, we had our dinner at the McDonalds outlet closeby where the Pizza McPuff deserves special mention.

A quick trip to the cloak room for our luggage later, we were ready for the 8.44 local for Panvel which would bring us in time for the 6337 Okha Ernakulam Okha Express at 10:20 PM.

It was at Panvel that we met Jena, Sundesh and Vikhyat all of whom were coming back to campus by the same train but we did NOT meet Rohit SCON Gupta who, as I came to know later, was on the same train as well. And as if that was not enough, he was also aboard the same Mahanagari Express that we had come to Mumbai in. Strange indeed..

And now, an exhausting 15 odd days later, here I am, back at G-5, back to my sometimes contemplative, sometimes dormant mood.



A new day, a new term, a new year, a new chapter in my life beckon.