I thought it was Marketing of IT.. where was the marketing here, dude ???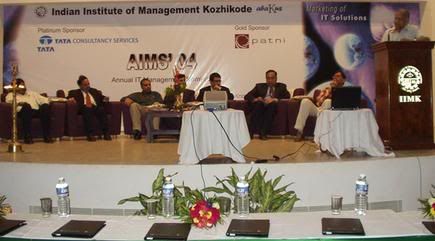 Just returned from the concluding session of the IT seminar here. Platinum-sponsored by TCS and Gold-sponsored by Patni,

(

or was it the other way Kunal ???), it was pretty good and informative until the very end. But I'll talk a bit about that later.
The first day had speeches by eminent people like Mr. Arun Sheth from BT, who also heads the ITeS/BPO chapter of NASSCOM, Mr. Sam Iyengar, from ITSMA, Mr. Deepak Khosla, GM, Patni (not Patni Computer Systems, as we were repeatedly told), Mr A.V. Sarma, from CSC, Ms. Sangita Singh, CMO & VP, Wipro Technologies, Mr. R Ramamoorthy, Cognizant etc.
Immense value-add these. I learnt more here than I had learnt in my entire life till then about the IT industry and its internal dynamics.
What was really strange was the fact that barring Deepak Khosla to some extent, no speaker tried to speak about Marketing of IT Solutions. Some bitched about the competitors policies, some tom-tommed their achievements and were unapologetic about resting on their laurels while at least one fellow had no clue what he was talking about.Poor Guy !
What deserves a mention here is that though the organizing committee worked very hard to ensure that the event was succesful, I thought they should've given more attention to the presentation, the way we projected ourselves.
Incidents like there being no coherent opening address, absolutely pathetic show by the girls who presented the guests with bouquets etc. and then the bloomer at the end, dont really help in building a brand for the instt, something we are so desperately trying to do.
Ha, the bloomer, what is it, you ask ! Well, it so happened that a member of

abaKus

who gave the closing speech did a pathetic job of thanking the guests present. A complete white-wash of the tons of effort that had gone in is what I saw it as.